I haven't posted in here in a long time but I took an LJ break so that's pretty much why. For those that don't remember me, my name is Diana. I'm 23, have been married to my husband Nick for 3 years. We have a son named Hunter who just turned 4 today and we have an angel in heaven named David. We lost David at 19 weeks 3 days due to what was diagnosed as incompetent cervix. I am currently 28 weeks 4 days pregnant and have no cerclage (stitch to keep the cervix shut). I am on modified bedrest and will be until I deliver. We're hoping to get to at least May 15 which is full term.

These last couple days I have felt terrible. I've actually been sort of worried that I was in pre-term labor. I've had a ton of extra pressure, I've been super sore and I've been constipated. I was really close to going to L&D but I drank tons of prune juice (puke) and took some Colace last night and feel much better this morning. I really didn't think being constipated could make me feel that terribly. I'm still not feeling real good so I'm wondering if I might have some sort of stomach virus. I'm still sore but that's mainly because of having to lay down all day long.

As for the soreness, just wondering if anyone else has felt like this. The only way to describe it is that I feel like I just got off a horse. I'm sore down between my legs, almost like muscle stretching or bruising. My Peri said it could just be the fact that I'm carrying the baby extremely low (she dropped at 22 weeks and is head down right on my cervix) and she's gaining weight so it's adding more pressure to everything down there. I just can't believe I have another possible 11 weeks of this!!

Well, here's some belly pics from 28 weeks!! I'll try to get around here more often!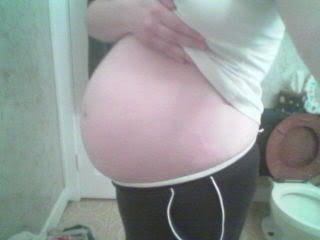 Posted in other preg communities!